As a longtime apartment dweller, I have been coping with white walls for an insane amount of time. All the colorful artwork, fabrics and odds and ends in the world just will not cut it anymore. I need paint - vibrant paint colors would cheer up my place so much. And really, that rent deposit is probably gone anyway, right?
I've been flickring and here are my inspirations: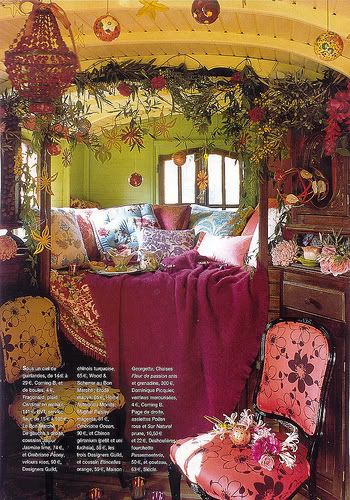 This I envy the most. I think if let loose, I would totally go for eclectic gypsy chic. Love love love all the color and prettiness. The garland! The major problem is that I'm an absolute clutter-phobe, and I'd have to get over that to allow such lovelyness. Really, I just want to crawl into this picture and live in this room.
This color of green is striking me so much lately. Its so clean and zippy and vibrant. Doesn't this room look like the best spot for spending time with friends and serving margaritas.
Isn't this color serene and oh so pretty? It would be perfect for a bedroom. But I dream of a bedroom this color:

I've been dreaming of a lavender bedroom for the longest time. The room is a bit ehh, but the color is divine.
Those colors are insanely gorgeous. Sigh...
Baby blue and bright red is an inspired combo. Maybe for our office/craft room.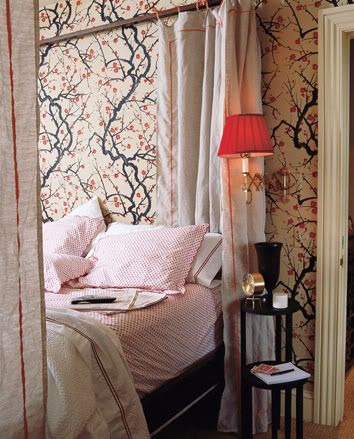 This wallpaper is great too. And I never figured myself for much of a wallpaper fan, but if its this lovely, I can convert.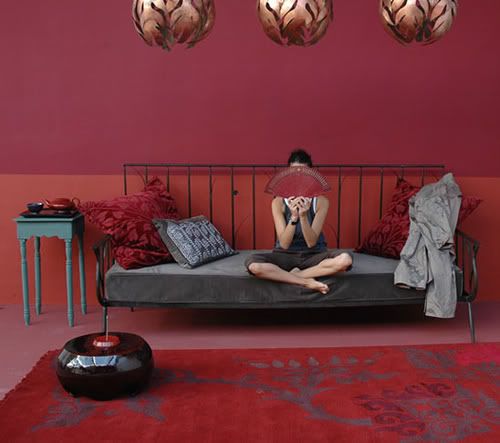 Very peaceful and romantic.
Maybe this sherbert color for the crafty room. I need it somewhere - I'm sure of that.
Love this - maybe for the living room or dining room.
And if only I had huge sunny windows (and a huge sunny bathroom to go with), I could go for this. It would be the best spot for zenlike baths.