I'm a firm believer in adopting pets from the local shelter. I like wandering through the shelter websites and looking at the sweet faces in need of homes (and hoping that someday soon I'll be in a positions to adopt some of them myself). For now, I have to settle for just one wonderful pound puppy to love - and he's very okay with that. But I do want to feature some of these dogs on my page now and then. Even if folks aren't here in Ohio to adopt them, maybe it'll spread the idea to check out the shelters first when adding to the family.
So my dog of the day is Yellow Dog. She's and 8 year old German Shepherd mix and so sweet looking.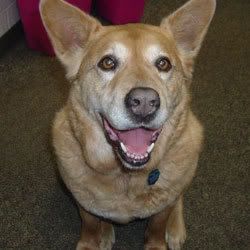 Don't you just wanna squish her? Available at the
Franklin County Animal Shelter
if you're looking.